September 9th, 2022 by admin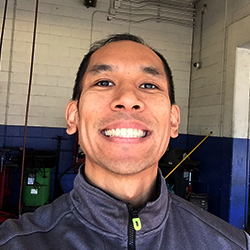 Our next entry in our Meet the Team series brings us RJ, Senior Web Designer for Atomic8Ball. RJ was born in Virginia but grew up in sunny San Diego. He attended The Arts Institute of California San Diego, earning a Bachelor of Science in Web Design and Interactive Media. He has also earned an Associate in Science for Computer and Information Sciences from San Diego Community College District. And lastly, he earned a diploma in C++ Programming from Stratford Career Institute.
RJ's responsibilities at Atomic8Ball vary from designing websites to content development and SEO optimization. He has a fantastic eye for design and is responsible for many of our amazing websites! RJ also works for Boeing and spends his mornings there. He admits that having two jobs can be challenging, but he enjoys the flexibility offered by Atomic8Ball since he can work remotely and set his schedule.
RJ has many hobbies outside of work, including playing video games, going to the gym, attending pop culture entertainment conventions, working on cars, and creating art. He recently attended the San Diego Comic-Con. The gigantic Lego Bowser was pretty close to the top among the awesome things he saw there. He also owns an adorably fuzzy lop rabbit.
We really enjoy having RJ on the team and part of the Atomic8Ball family. His design skills are exceptional and are greatly appreciated by all of us and our wonderful clients! We hope you enjoyed getting to know RJ a little better, and stay tuned for our next Meet the Team entry!
Meet the rest of the Atomic8Ball team!
Posted in: team members