October 6th, 2022 by admin
When it comes to custom hand-coded websites, no one does it better than Atomic8Ball. From modern, intuitive designs to mobile responsiveness, we ensure our clients have the best websites in a multitude of ways. To showcase just the difference we make, we will be taking a look at one of our clients' websites today.
Technolink of the Rockies: Denver Managed IT Services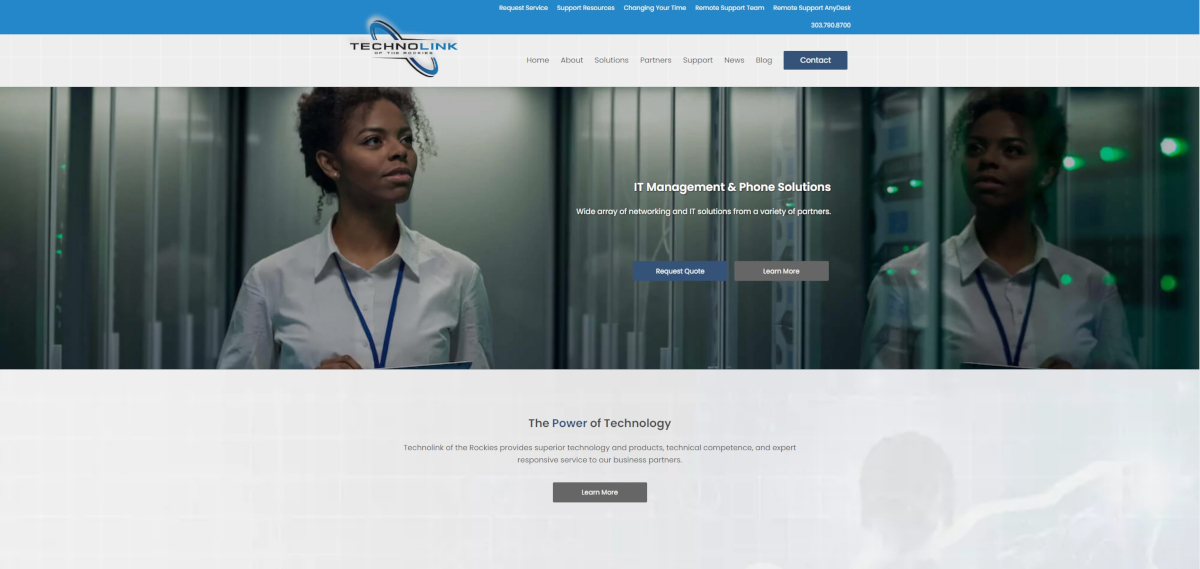 For this website showcase, we have chosen Technolink of the Rockies, a Denver managed IT service company and unified communications provider that has been our client since 2007.
About Technolink
Technolink of the Rockies has built a strong reputation in its community by focusing on customer-centric solutions and providing advanced technologies to local businesses. They were widely known as Teleco of the Rockies but changed their name in 2015 to reflect their transition to an IT company more accurately.
Modern Design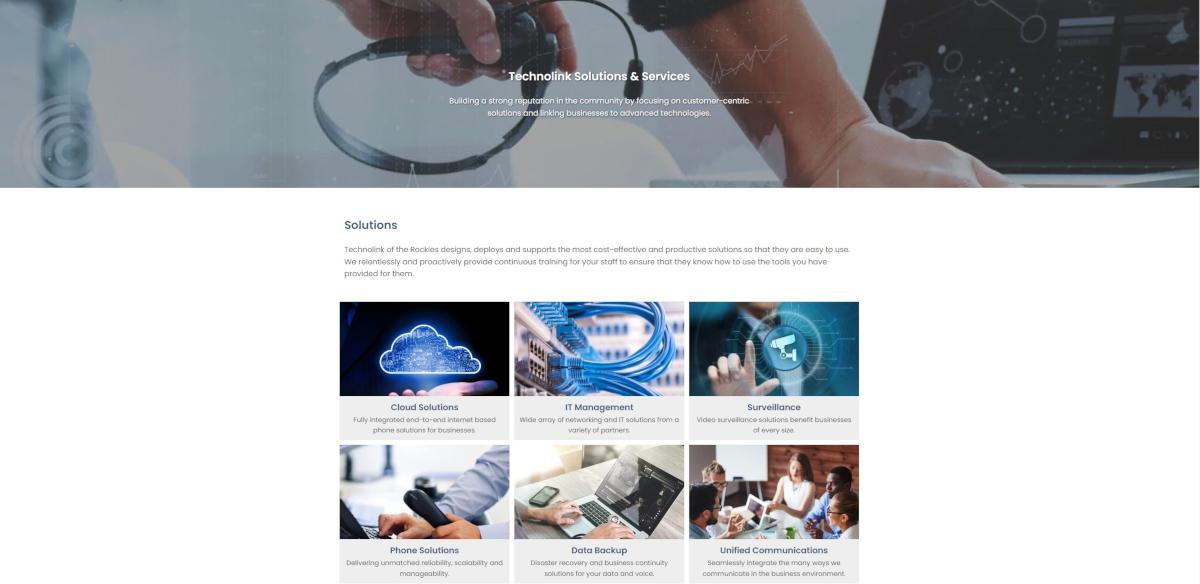 For Technolink's website, we gave it a modern aesthetic without sacrificing functionality and maintained intuitive navigation between pages. We avoided the clunkiness of hamburger menus and streamlined navigation from page to page through the use of a separate sub-navigation. Each sub-navigation is unique to each section of the website, with the option to go back to the hub page always available at the bottom pages. This approach lets us keep the design unified across pages and make navigation between pages easy and simple for users.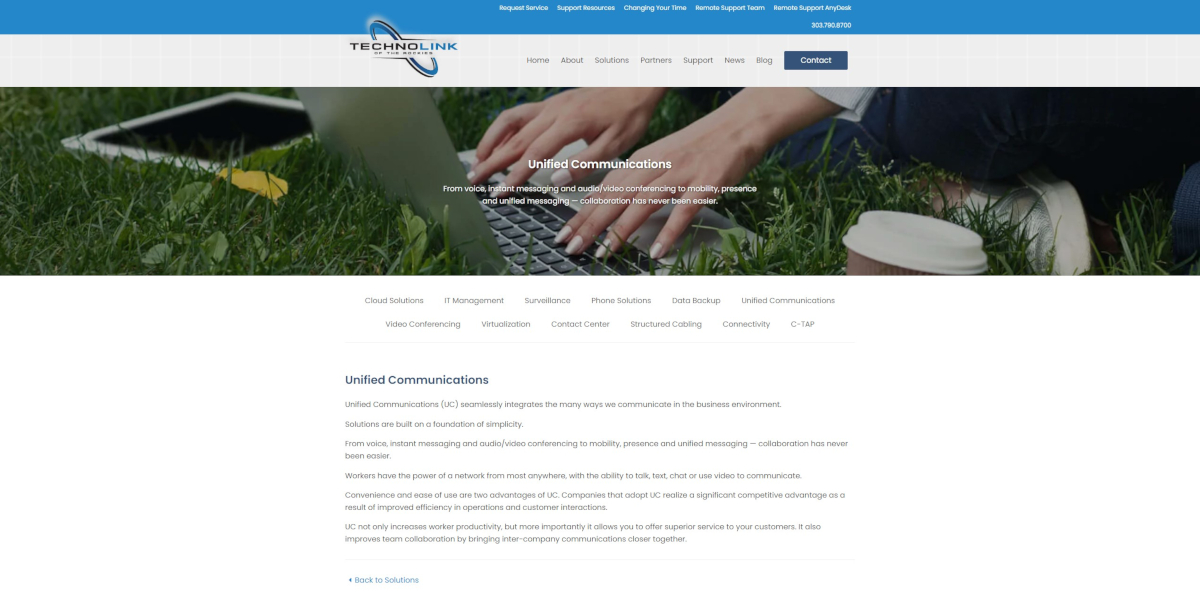 Latest Content Front and Center
With a client that is active as Technolink in both their community and the industry, it's important to display their newest content prominently to users to let them know how operational they are. That's why when designing their website, we made sure to make their blog, press releases, and testimonials visible on the home page and contained in their sections.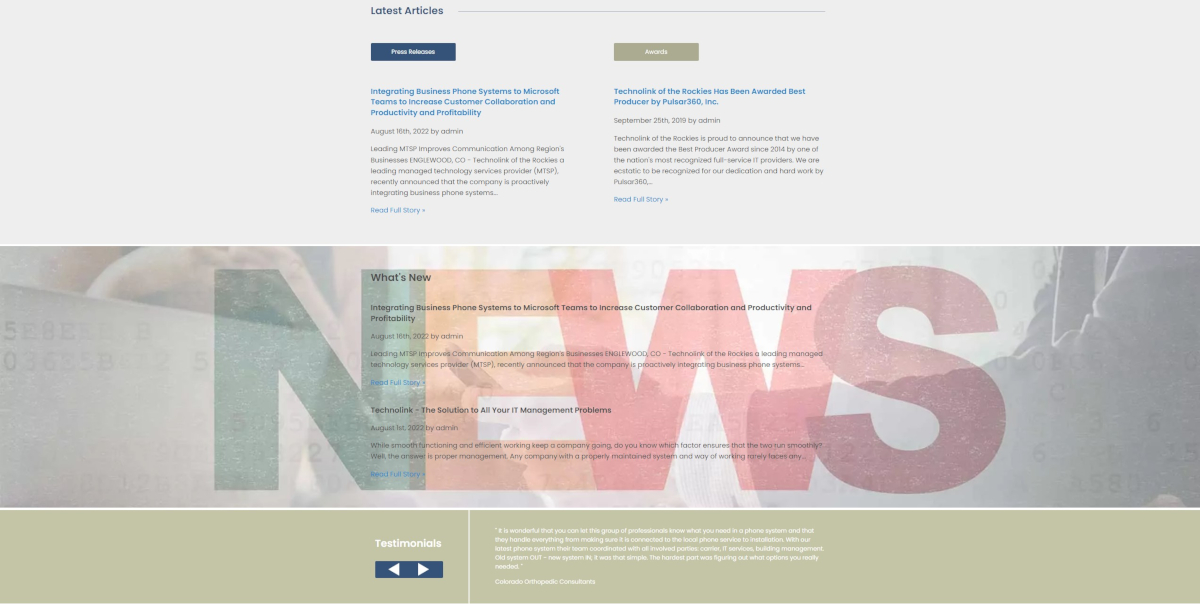 Not only does this drive up engagement on the website, but lets users (and potential clients) see your company is constantly working and growing. It also helps with SEO by not only showcasing updated content but interlinking more of your website; all the content shown on their homepage links back to their separate pages: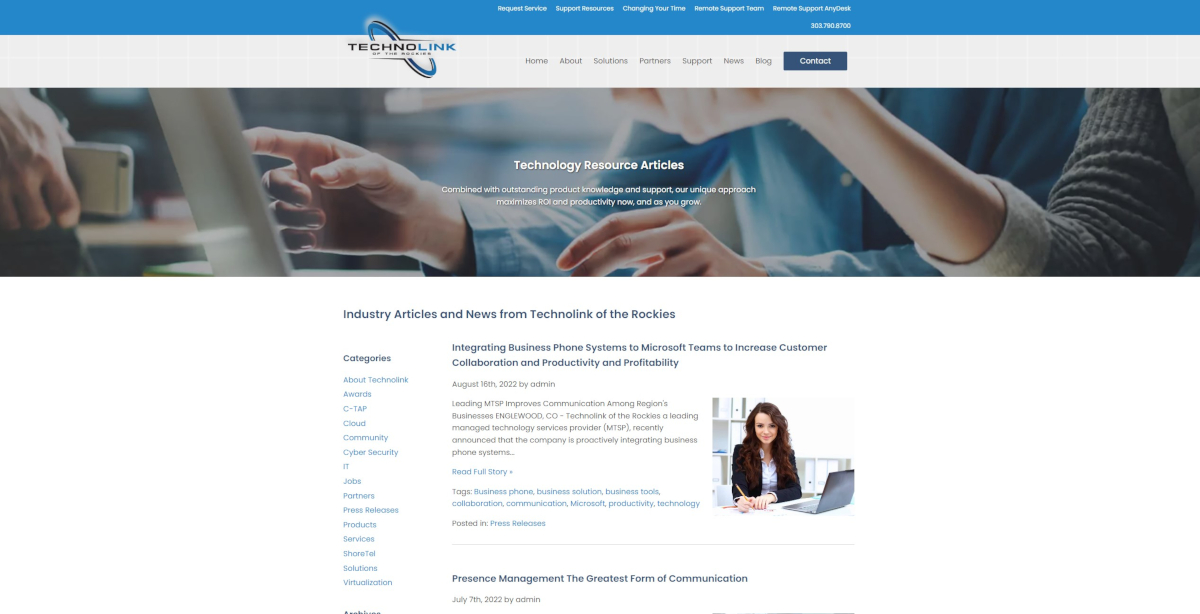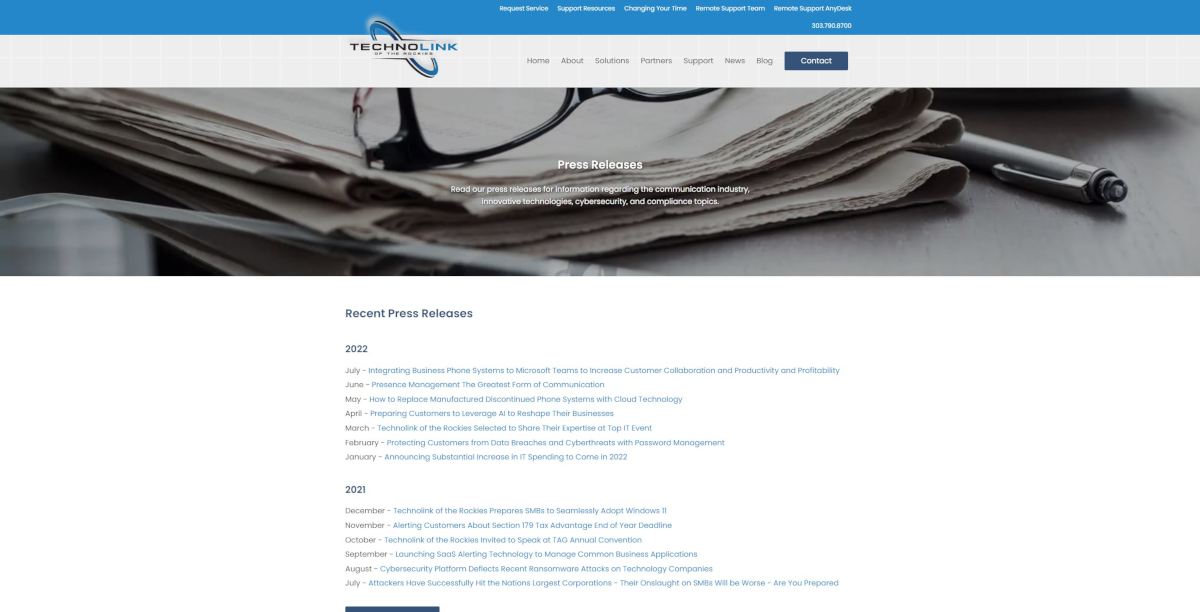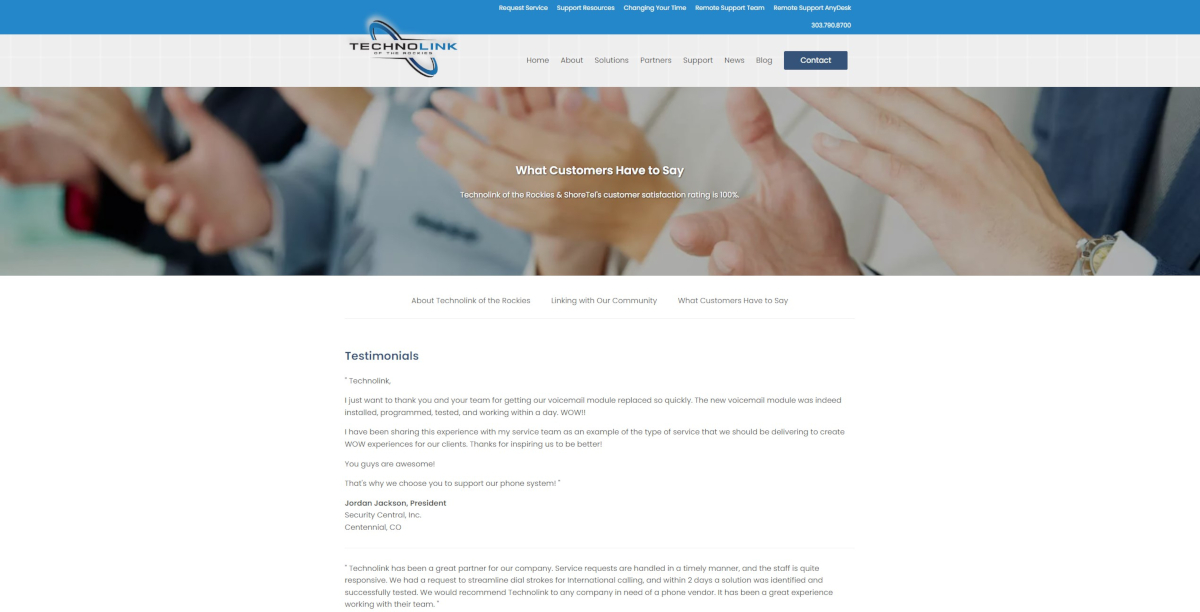 Speed Improvements
For websites to succeed, they need to not only stand out but also need to be high-performance. Nothing will drive away users/customers like a slow-loading and unresponsive website. Luckily for Technolink, they never have to worry about that being an issue for their website: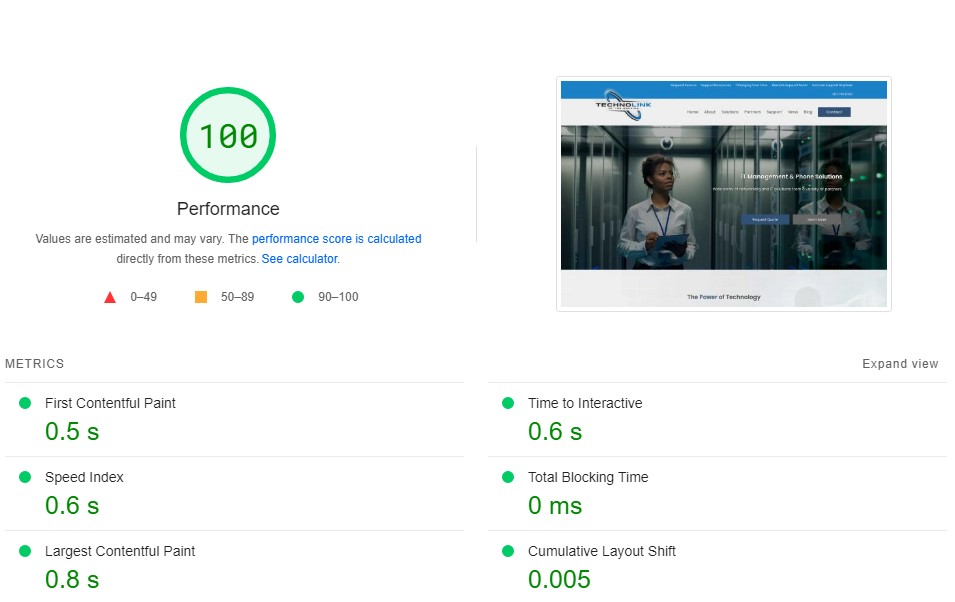 The results don't lie, according to Google's own PageSpeed Insight results, Technolink's site gets a perfect score. Their site is fast and responsive, giving them an edge in user experience, retention, and even SEO performance.
Mobile Responsiveness
Did you know 51.6% of website viewers worldwide are mobile users? That means that when people are viewing your website, they are more than likely doing so on their phones or tablets. For many websites, that's not a good thing. Most websites aren't designed with mobile viewing in mind; most are designed for computer or laptop users. This negatively affects your SEO ranking, as search engines like Google take mobile-friendliness into account. However, Technolink's website isn't like other websites. It has mobile responsiveness taken into account with its design. It doesn't matter what device or its relative screen size; Technolink looks and functions perfectly: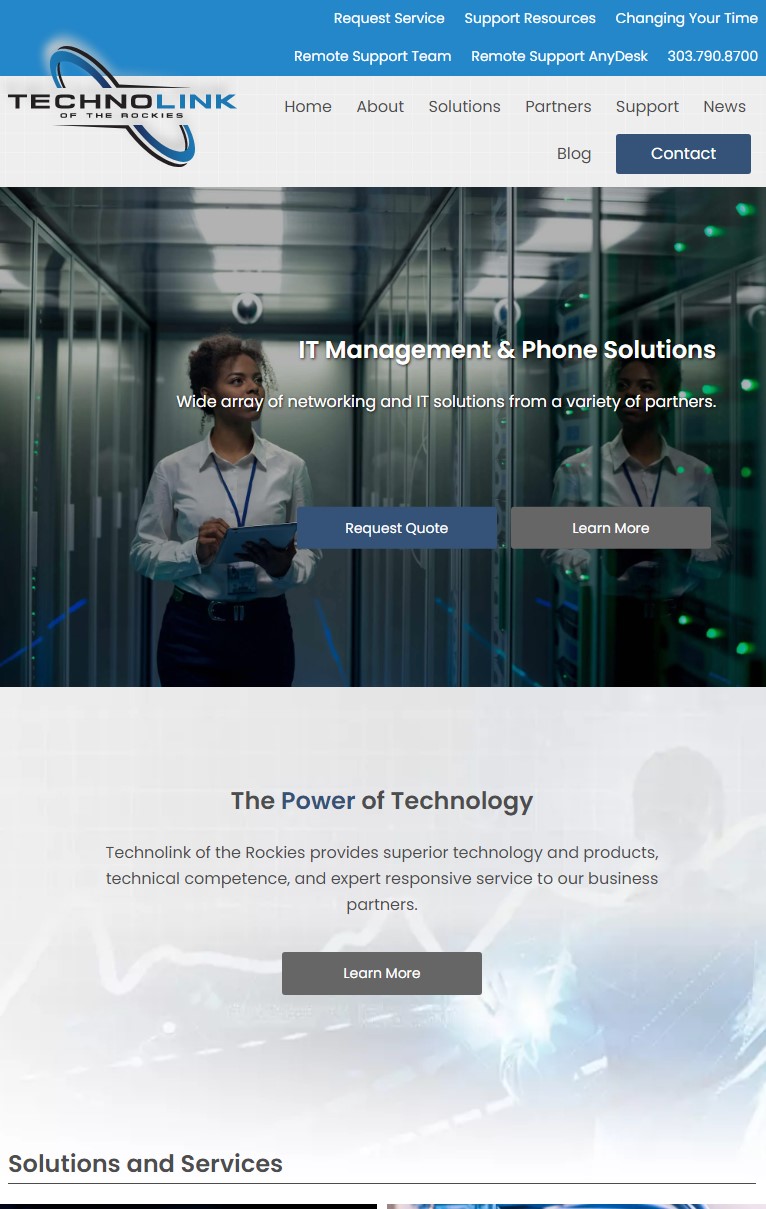 Don't just take our word for their mobile optimization. Remember the PageSpeed Insight test results from earlier? It also shows results for the mobile version of websites: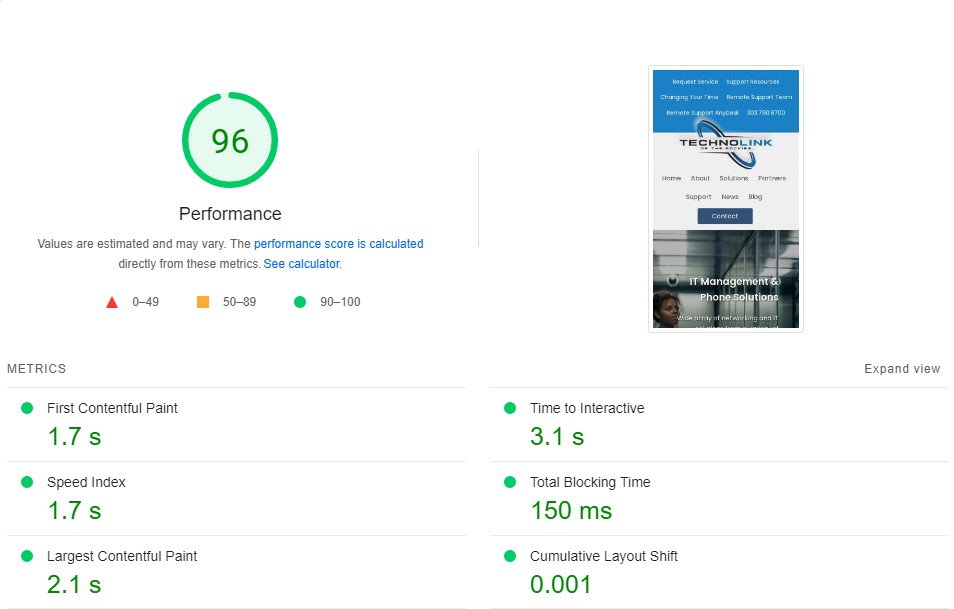 Lead Generation
Generating leads is important to every business, and their website is no exception to lead generation. Potential clients should be able to find and view your website, understand what your services and products offer, and be able to contact you easily.
Once again, Technolink checks all the boxes for lead generation through its website:
Seo Optimized & Social Media Presence
Thanks to the website optimization and the blog content mentioned earlier, Technolink has an edge in being found by users / potential customers.
Easily Findable Services
Technolink offers a multitude of services to offer prospective partners, and thanks to their intuitive navigation, it's easy and convenient to find what they need.
Direct Contact
Not only is all their contact information displayed on their contact page, but they have an easy-to-fill and send contact form that sends submissions directly to them. Add that with every page showing a service or product links back to the product page and to the contact page intuitively for both PC and scrolling mobile users. Contacting and inquiring about their offerings has never been easier.
Conclusion
That concludes our showcase of Technolink of the Rockies' website showcase and the insight into how Atomic8Ball makes our clients' websites. If you want to inquire more about our offerings, contact us today.
Posted in: Case Studies